NEXT EVENT
B  I  K  E     N  I  G  H  T
This Friday evening, 1st July


From 5:00pm until after dark!
The Canada Heights annual gathering of everyone interested in motorcycles and every make, type, age and condition.
Free admission for all  –  food and drink on sale  –  on-site toilets  –  awards for the best bike in several classes
Road bikes  – Off-road bikes  –  bikes from all sports (but we've yet to see a sprint or drag bike or an ice racer.  Anyone got one?)
Classic-ish cars and trucks welcome  –  free admission for trade stands for any trades 
J U L Y    M O T O C R O S S
Sunday 24th July
Classes are Allcomers (Experts and Juniors)
Over 35s: South Eastern Evos
OPEN NOW for Sidcup members only  –
members of other ACU clubs can enter from 4th July.
The third round of the 2022 Sidcup Members Motocross Championship
To go to the ACU website to enter, click HERE
For a list of those already entered, click HERE
The first

120

Allcomers, the first

40

Over 35s
and the first

40

SE Evos get in.
Don't delay or you will miss out!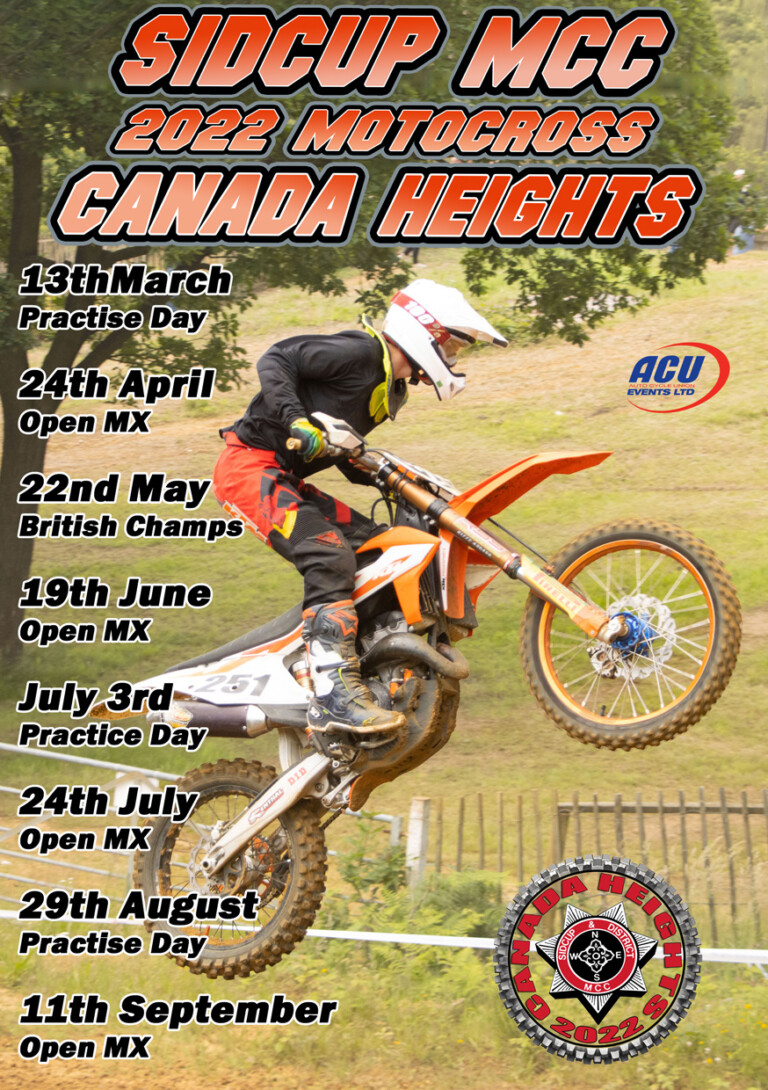 Sidcup MCC membership for 2022 is open, go to www.ride-acu.uk With the club membership you can then apply for your 2022 ACU licence. Sidcup MCC has a full 2022 calendar including increased Trials practice days courtesy of our enthusiastic new Trials Secretary.